Hi all
Today i discussed with Storm, and offered him the possibility to bring FF clan a teamspeak server, that i have and don' t use. This is a server which has 10 slots.
This is an awesome tool, to use it you need :
1- A teamspeak 3 client you can download there :
http://teamspeak.com/?page=downloads
(choose the 32 bits version)
2- A micro (best his micro+headphone to reduce echoes)
You have to know, if you have no micro, you can write exactly as in msn, by hearing others
Ok, when you have DL your client, now, to connect on your own channel (i will set for FF) , you must enter two things :
1)On the toolbar click on connection, then connect and enter the adress of the server or ip.
2) the port
3) And your nickname of course.
Ok now you are on FF channel, you will see that on your client, for example :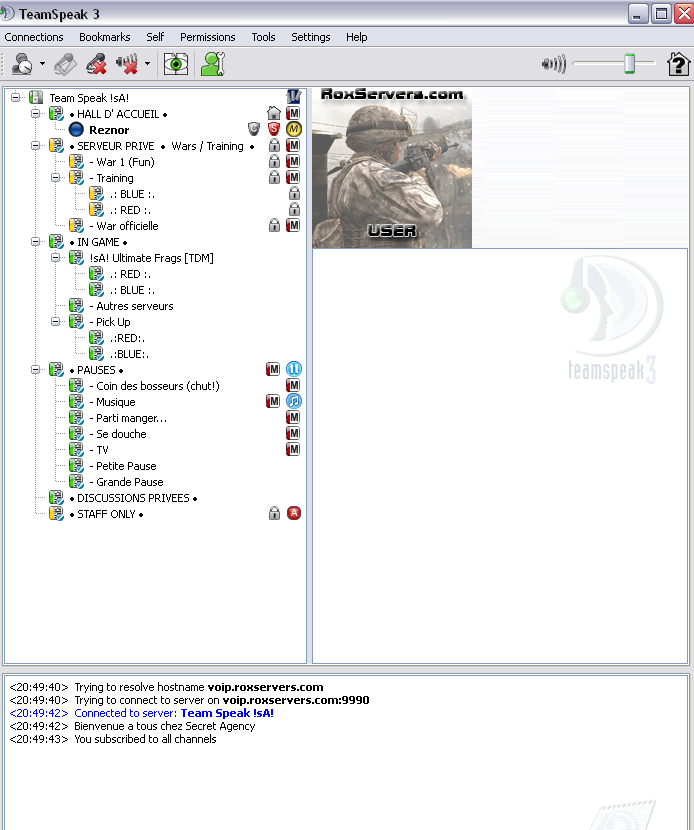 * You can connect a couple of channels at the same time , and choose as you want (this is "connect in a new tab"
* You can personnalize by adding avatars , setting sound quality for each user you talk with
* Teamspeak is the best when you do a war versus a clan. Why ? best way to coordinate troops during the game, signalizing enemies positions, building tactics etc etc (and of course, joking aha)
* You can editing the channels as you want, whenever you want.
* Beyond that, its another experience linked with the game, and apart the game, a place where friends can gather and just talking.
* Admins here will be Server admins on TS3, that means they can moderate (kick, ban, mute a user, etc etc).
and more possibilities....
Another possibility Storm, as you are a lot, it's possible to protect your server with a password. At least, the 10 slots will be available only for FF. But as you want. I had had experience, mine was fool of...people i didnt know lol..
I will give you the link where you can find all rtcw clans that use it (usefull to join their channels and why not meeting others clans).
Other last thing, as for game servers on your portal, it' s totally possible to set a "temapseak viewer", from your portal, in real time, you can see who is connected, like that for example :
(of course colours will be personnalized for your forum).
So, server is almost ready, if you all are agree (if you have suggestions, questions, don't hesitate), and if Admins give their positives minds, the server is ready...tomorrow.
Regards.
Vinz.